Needham High School

In Memory
Eric McGaw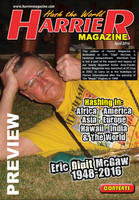 While Eric lived most of his life in India, he passed away in the Philippines on March 2, 2016 from an apparent heart attack. A very creative person in deed, he will be missed.
______________________________________________________
From Harrier Magazine (cover photo here),
A Tribute to Eric McGaw
DIGIT
Sweet Chariot finally carries Digit home
It is with immense sadness that we inform you of the demise of Eric "Digit" McGaw, a dear friend and founder of the Hyderabad Hash House Harriers (H4), his pride and joy, which he built, nurutred, mentored and fussed over like a mother hen
A larger than life personality, whose enormous frame hid a heart of gold, Eric's few "faults" included his unending and immeasurable generosity, and his total lack of spite or revenge. His boundless energy, his enthusiasm, his skill as a raconteur and his witticism are of course legendary.
Eric's family was the most important part of his life, and we sincerely and deeply console with his wife Elena, and children Tucker, John and Rachel.
H4 will hold a memorial run on 3 April at which we will fulfill Digit's wish by mixing his ashes in the marking powder, and setting the run through some of his old stomping grounds in Jubilee Hills, Hyderabad. All are welcome.
We will also be conducting a memorial meeting, not to mourn, but to celegrate Eric's life (as we are sure he would have us do) on 5 April (venue and time yet to be decided). If you cannot attend this memorial we would appreciate messages from you ASAP, which we will read out at the meeting.
On Home Digit.