Needham High School

In Memory
James Heppler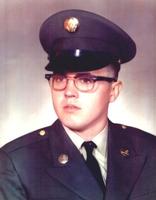 Of Needham, in Viet Nam. Aug. 31. Pfc James Howard, age 22, son of A. Francis and Anne E. (Snyder) Heppler, he was born in Winthrop but had lived in Needham most of his life. He was graduated from Needham HIgh School, Class of 1966, and continued his studies at Stonehill College, North Easton.
He entered the Army in 1969 and underwent training at Fort Leonard Wood, Missouri, and Fort Polk, Louisiana, before being sent to Vietnam, on May 11. Corporal James Howard Heppler was awarded the Bronze Star Medal for Valor, with Combat Distinguishing Device (V), for his exemplary gallantry in action. He was also awarded the Bronze Star Medal for Merit for his meritorious service. He served as an Infantryman and was assigned to A CO, 1ST BN, 5TH INFANTRY, 25TH INF DIV.
PFC James H. Heppler wass an infantryman serving with A Company, 1st Battalion, 5th Infantry, 25th Infantry Division. On August 31, 1970, his unit was laagered in a night defensive position six miles southeast of Xuan Loc Air Field in Long Khanh Province, RVN. At approximately 3:45 AM, his location was attacked by a hostile force using rocket-propelled grenades. The Americans responded with small arms and automatic weapons fire and received supporting fire from U.S. artillery, helicopter gunships, and tactical air strikes. During the fighting, Heppler was killed,. Enemy losses were unknown while U.S. casualties were two killed and six wounded. Heppler was posthumously promoted to Corporal and award the Purple Heart for valor in combat..
Besides his parents, he leaves two brothers, John F. and Robert C., and a sister Jean P. Heppler, all of Needham.
Military funeral from the Eaton Funeral Home, 1351 Highland Ave., Monday, Sept. 21 at 9 a.m. High Mass of Requiem at St. Bartholomew Church at 10:00. Visiting hours Saturday 7-9, and Sunday 3-5 and 7-9. In lieu of flowers, memorial may be made in his name to Stonehill College Building Fund, North Easton, Mass., c/o Father Haughey