Needham High School

In Memory
Robert Hassey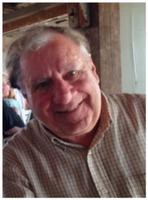 Robert F. Hassey 1948 ∼ 2017
Robert Hassey, age 68, of East Falmouth, passed away on May 16, 2017.
Bob was born in Dorchester, MA on May 21, 1948. He was the oldest son of Jean (Sullivan) Hassey and Francis Hassey, brother to David Hassey and Janet (Hassey) Allen. He grew up with his family in the towns of Milton and Needham, MA, and graduated from Needham High School in 1966. He attended Georgetown University, graduating in 1970 with a B.S.B.A. degree in finance and received his MBA in 1971 from Boston University. His professional career focus was business/finance administration for a number of nonprofit organizations. He worked in that capacity for some of the following organizations: USS Constitution Museum, Sea Education Association, Cape Abilities, and the ECAC (East Coast Athletic Conference).
Bob had a passion for all sports as both participant and spectator throughout his life. He was a diehard Red Sox fan, Ted Williams was his hero growing up, and couldn't have been happier with their World Series win in 2004. He had a passion for track during his youth and became a long distance runner after college graduation and continued running competitively into his early forties. During those years, he ran approximately fifty marathons and was most proud of two results: the 1980 Boston Marathon, when he ran 2:48:42 and the 1982 Clarence DeMar Marathon in Keene, NH, when he ran 2:42:25.
Bob had many interests and was an avid historical reader, followed politics closely, and contributed to the community with his involvement on the boards of the Hull Lifesaving Museum, Penikese Island School, Cape Cod Maritime Museum, and the Boys and Girls Club of Cape Cod.
Bob met his wife Susan Bozek in Quincy, MA in 1982 and they were married for 33 years. Both shared a love for Cape Cod and moved to East Falmouth in 1995. He leaves behind his wife Susan, sons Andy Hassey of Quincy, and Ben Hassey of East Falmouth and Brooklyn, NY. He is also survived by his brother David Hassey and wife Nancy, sister Janet Allen and her husband David, and several nieces and nephews.
https://www.ccgfuneralhome.com/obit/comments/robert-f.-hassey